2017 Asthma Poster Art Contest
Kids with Asthma Can...
The Albemarle Pediatric Asthma Coalition (APAC) presented awards for the Fifth Annual Asthma Poster Contest. The top three winners were selected from over 350 posters submitted from all over the region.
The theme for the asthma art contest is "Kids with Asthma Can...".

The Goal is Control
All pre-school and school age children need to have a new Asthma Action Plan completed prior to the new school year starting in August. Please contact your child's physician today and schedule their "Back to School" Asthma visit.
List of School Supplies to manage Asthma
Items that every asthmatic should have in place on the first day of school:
Asthma Action Plan- this plan explains when the rescue medicine should be given to your child. A new plan should be obtained from your doctor before every new school year.
Rescue Inhaler: (Albuterol, Ventolin, Proventil, ProAir, MaxAir Autoinhaler, or Xopenex


Be sure to check the expiration date.
Bring original medication container that has a label with the child's name.
Need one inhaler for home and one inhaler for school.

Spacer- a spacer should always be used with an inhaler. Your child will need one for home and one for school.
By having asthma management tools in place at school, everyone is more at ease, especially your child. Without the items listed it can put your child at risk for harm due to not being able to treat asthma episodes in a timely manner.
If you have questions, please call your school nurse or asthma care manager.
Asthma Champion Award
Janet Capehart, RCP, AE-C with Vidant Chowan and Bertie Hospitals received the 2015 North Carolina Asthma Champion Award on March 4, at the NC Asthma Summit held in Burlington, NC.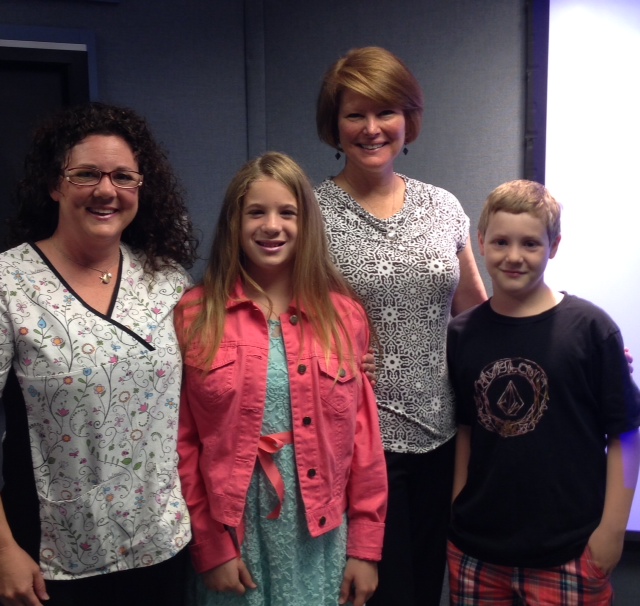 Hilary Dietrich, mother of Katie and Simon Dietrich and Dr. Margaret Donohoe, APAC Chair and local Asthma Allergy Specialist.
As part of the APAC Targeted Public Awareness Campaign to recognize World Asthma Day and May as Asthma Awareness month, two Elizabeth City eighth grade River Road Middle School Students recorded an asthma awareness message. Twins Katie and Simon Dietrich recorded this message
This message played on these radio stations from April 28 through May 24th.Â
WRSF-FM 105.7 Dixie
WKJX 96.7 The Block Hip Hop
WERX 102.5 The Shark