What is Healthy Carolinians?
Healthy Carolinians is part of a state-wide effort to encourage counties to identify priority health issues and create or support coalitions and collaborative efforts that address them.
Healthy North Carolina 2020: A Better State of Health
HNC 2020 Focus Areas and Objectives
Every 10 years since 1990, North Carolina has set decennial health objectives with the goal of making North Carolina a healthier state. One of the primary aims of this objective-setting process is to mobilize the state to achieve a common set of health objectives. For the year 2020, there are 40 objectives within 13 specific focus areas. Each of the 13 focus areas and objectives are listed below. They can also be viewed in the report, Healthy North Carolina 2020: A Better State of Health (PDF, 7.3 MB).
The health objectives listed in the 13 focus areas call for improving the health of all North Carolina residents and the health of the community. Many of the objectives call for increasing healthy behaviors and reducing or eliminating illness, disability, and premature death. Other objectives focus on broader issues such as access to health care and treatment services, community health, and environmental health.
2020 Focus areas
Tobacco
Physical Activity and Nutrition
Injury
Sexually Transmitted Disease/Unintended Pregnancy
Maternal and Infant Health
Substance Abuse
Mental Health
Infections Disease/Foodborne Illness
Oral Health
Social Determinants of Health
Environmental Health
Chronic Disease
Cross-cutting
Healthy Carolinians, North Carolina Division of Public Health and the North Carolina Institute of Medicine is working to improve population health. A Task Force has been assembled to work on Healthy North Carolina 2020 Objectives and a broad-based campaign to make North Carolina the healthiest state in the nation.
Healthy Carolinians Organizations in the Albemarle
Click a link below to learn more about an organization.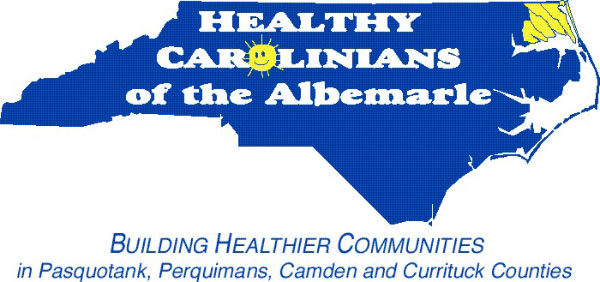 Healthy Carolinians of the Albemarle (HCOTA) is a community-based network of agencies and citizens dedicated to improving the quality of life through health and wellness, where its main focus is to eliminate health disparities across the four counties of: Camden, Currituck, Pasquotank, and Perquimans, by addressing the emerging health trends.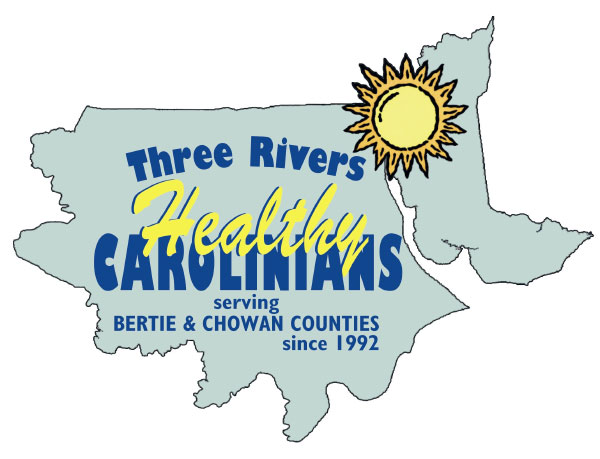 Three Rivers Healthy Carolinians (TRHC) is a community-based network dedicated to improving the quality of life for all residents in the Bertie and Chowan Counties. TRHC partnership continues to strive to identify the populations of Bertie and Chowan counties with health disparities and responding to their specific needs. TRHC is recognized as a NC Governor's Task Force Partnership and is divided into three subcommittees: Chronic Disease Management, Fitness and Wellness, and Maternal and Child Health.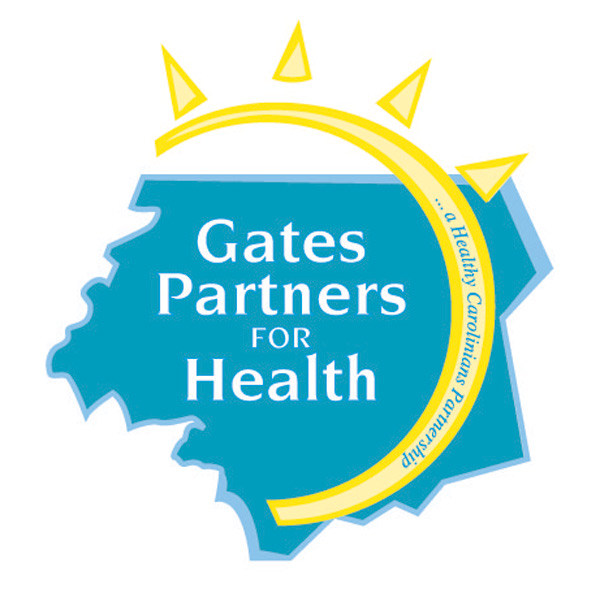 Gates Partners for Health (GP4H) is a network of agencies and citizens dedicated to improving the health and quality of life with people of all ages within the Gates County community. Priorities of GP4H are divided into three major focus areas: physical activity and nutrition, chronic disease, and injury prevention. The committees consist of representation from local agencies, faith communities, and interested citizens.